Since olden times chaikhana has been a fully-fledged semblance of Central Asian and Eastern hotels. The travellers stayed at a sheltered place to slake their thirst with the most general drink in these parts – tea. Local inhabitants met foreigners, scientists and merchants there, learned news about life in other countries. It was also a place for settling trade bargains. All the notes of the East with the elements of modern Europe are realized in chaikhana Granat. Pattern painted walls, carved wooden furniture, soft sofas, abundance of luxury and flowers – all of this sensifies home comforts and oriental hospitality. The menu of chaikhana Granat is represented by spicy full of aroma dishes of Georgian, Uzbek , Azerbaijani and Japanese cuisine. Everybody feels welcome here: adults, children, jolly crowds, romantic lovers. There are several halls in chaikhana Granat. You can take rest after working day in hall on the ground floor full of sounds of oriental music. In summertime you can settle in open veranda with park view. Impressive atmosphere awaits you in disco-bar on the second floor. Delicious cocktails, professional bartenders and best DJs. You can also find karaoke here. Comfy hall, audio equipment and life music. Professional crew of cooks and waiters do their best to make you highly pleased. Our main mission – take care of full-fledged relaxation of chaikhana Granat guests. Our crew immediately responds to all your preferences and desires. There are special offers and discounts for regular guests. Visit chaikhana Granat and feel all the oriental delights!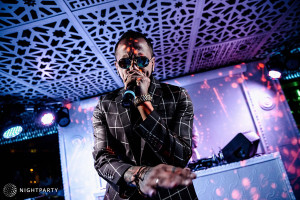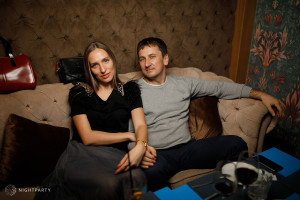 Disco bar: a Bright holiday awaits You on the second floor in the disco bar Teahouse "Pomegranate". Delicious cocktails of professional bartenders and the best DJs. Hall can accommodate up to 96 persons.
Karaoke bar: Cozy room, modern audio equipment and live music. Hall for 25 persons.
Common room: On the ground floor You can relax to the sound of Oriental music General sarabacha after a hard day.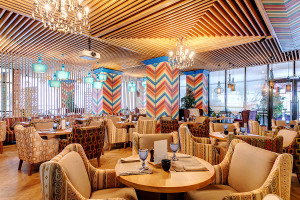 Hall is designed for 98 persons.
Summer terrace: In the summer You can sit outside on the veranda overlooking the green alleys of a beautiful Park with a fountain. Room has a capacity for 72 guests.
VIP lounge is a world of special guests made like a jewel box: all in carving, ornamentation and rare tree. Parties, business negotiations, corporate events, birthdays or a few pleasant hours of solitude with a loved one — all these events can be held in our VIP room. Separate entrance, service class VIP, personal account Manager.VIP room will please the most discerning taste.
Hall is designed for 35 persons.
Nursery: We maintain the tradition of a family holiday, and therefore, on the ground floor for younger visitors the nursery is open, where they will not be bored.